Formula SAE Team
Jump to navigation
Jump to search
The University of Toronto Formula SAE Racing Team is a student-run design team which designs, manufactures, tests and races a Formula style race car every year. The team is composed entirely of undergraduate students who participate at an extracurricular level, strengthening their academic skills in engineering design, technology and business. The students are responsible not only for design, construction and tuning but also for finance, sponsorship, media, logistics and creating a true entrepreneurial learning experience. A student's involvement typically extends over 4 to 5 years, allowing knowledge to be passed on to younger members thus enabling an efficient transitional phase. The UofT FSAE Team has built its reputation as one of the most reputable Canadian team during its 20 year history.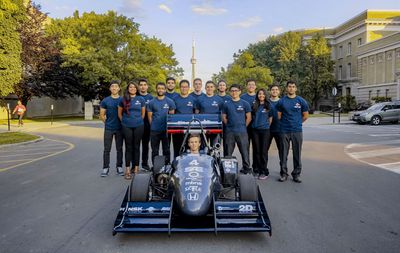 Formula SAE (FSAE) challenges teams to design a small Formula-style race car based on a series of rules and are evaluated for its potential as a production item. The competition encompasses two main categories; static and dynamic events. The static events consist of engineering design, marketing presentations, cost and manufacturing analysis, as well as technical inspection. The dynamic events include acceleration, autocross, endurance and skid pad.
Motorsports in your blood? Want to be part of a winning team? Get the embedded-in-experience knowledge and engineering teamwork skills employers look for, and have fun building a purebred race car.
Our team is always looking for more dedicated members. Joining the team simply requires that you show interest, and have a good work ethic. To join the team, start off by learning more about the team by visiting http://www.fsaeutoronto.ca/ and then emailing recruitment@fsaeutoronto.ca. If you happen to be around campus, drop by our shop on the main floor of the Haultain Building and we can get you started.