Difference between revisions of "Ultimate F!rosh"
Jump to navigation
Jump to search
m

Line 14:
Line 14:
 

| 2013

 

| 2013

 

| Colin Playle

 

| Colin Playle

−

| MIN

+

|

 

|-

 

|-

 

| 2012

 

| 2012
---
Revision as of 14:30, 10 January 2013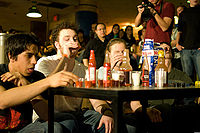 The Ultimate F!rosh competition takes place on the Tuesday evening of Godiva Week. Unlike many other Godiva Week competitions, such as Mr. Blue & Gold or Godiva's Crown, where F!rosh are forbidden from winning, Ultimate F!rosh can only be won by a first year student. The competition consists of a series of challenges determined by the previous year's Ultimate F!rosh and the runner-up from the year before.
Upon winning, the victorious F!rosh is rewarded a hardhat and swears an oath to jump up and down on command for until the next Ultimate F!rosh is chosen one year later.
Past Ultimate F!rosh Winners
| Year | Winner | Discipline |
| --- | --- | --- |
| 2013 | Colin Playle | Min |
| 2012 | Rahul Verma | ECE |
| 2011 | Nancy Ho | Track One |
| 2010 | Jonathan Ng | ECE |
| 2009 | Richard Medal | ECE |
| 2008 | Yuri Savguira | MSE |
| 2007 | Jimmy Lu | Civ |
| 2006 | Rob Richer | Chem |
| 2005 | Christian Maxwell | EngSci |
| 2004 | Nathan Schnarr | ? |